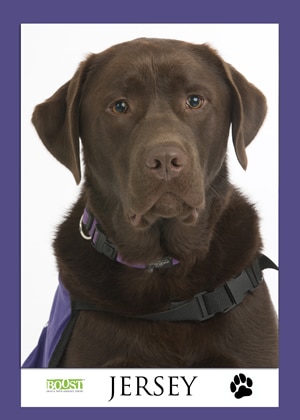 The use of courthouse facility dogs is an increasingly popular aid in providing support for children and youth involved in the justice process. The dogs help provide reassurance and have a calming affect on young victims and witnesses during their court testimony, in forensic interviews, medical exams, meetings with the prosecutor, and while waiting to testify. There is abundant anecdotal evidence and numerous testimonials as to their effectiveness in supporting witnesses, although formal research in this area has yet to be published.
Rachel Braden, London Family Court Clinic, Kim Gramlick, Delta Police Victim Services, and Barbara McIntyre, Boost CYAC, provided information and photographs of their Facility Dogs, for this article.
The following are key points on how specially trained courthouse facility dogs are presently used in Canada and the US. See below for links to organizations, articles and also case law about their use.
The Canadian Experience
In recent years, there has been a growing acceptance in Canadian courts for facility dogs to provide support for child, youth and vulnerable adult witnesses. In 2014, the first dog to officially support a young witness while testifying was "Hawk" from the Calgary Police victim services unit. Soon after, "Wren" an accredited service dog from the Zebra Child Advocacy Centre, Edmonton, was permitted by the court to support a child witness. "Caber" from Delta Police Services BC has a long resume. In an oral judgement the Court in Surrey, BC noted that Caber, as an accredited assistance dog, trained by the Pacific Assistance Dog Society, was an appropriate animal to assist a witness. (R. V. JLK [2015] B.C.J. No. 1055). The Supreme Court of British Columbia, allowing an application pursuant to s. 486.7 of the Criminal Code, noted that the presence of service dogs such as Caber has a calming influence, and allows witnesses to "effectively communicate the evidence without creating interference or distraction". (R. V. Marchand, [2016] B.C.J. No. 1912). (See attached oral ruling)
Vulnerable adult witnesses have also benefitted from the support of a courthouse dog. In Brampton, Ontario the Court noted the right of victims to request a testimonial aid under s.13 of the Canadian Victims Bill of Rights – "Gordon" was considered a type of testimonial aid. (R. V. C.W [2016] O.J. No. 5647).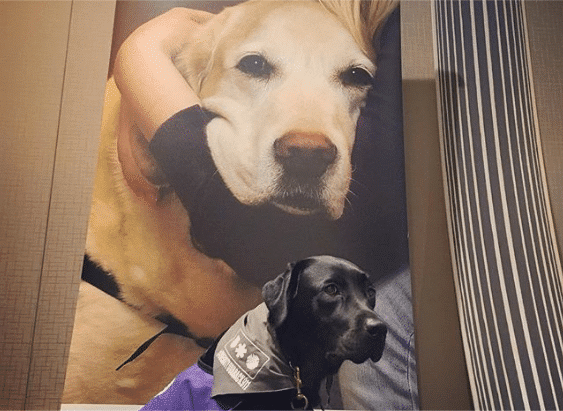 Since 2015 there have been numerous other examples of dogs supporting young and vulnerable witnesses in courtrooms across the country. Courthouse Facility dogs have been highlighted by the media in their own communities.
Many Child Advocacy Centres are waiting for dogs to complete training and become part of their support team. Training of these dogs can take up to two years, and the dogs are essentially trained from birth.
The following Canadian organizations provide specialized training and accreditation for dogs: Pacific Assistance Dogs Society (https://pads.ca/contact/). National Service Dogs (http://www.nsd.on.ca/). Dogs with Wings (https://dogswithwings.ca/). The Mira Foundation (http://www.mira.ca/fr/).
Courthouse Facility Dogs – In sum
Although there is no specific section in the Criminal Code at the present time, applications for a court facility dog to support a witness have been made under s. 486. Also, the Canadian Victims Bill of Rights, s. 13, providing victims with the right to request testimonial aids, has been used in support of applications.
Terms are used somewhat interchangeably to describe Courthouse dogs including: Service Dog, Facility Dog, Courthouse Facility Dog or, Court Support Dog. It is generally agreed that the term Therapy Dog should not be used.
There is general agreement about standards of behaviour including: dogs must be unobtrusive in the courtroom or testimony room; must be able to remain still and calm for several hours; and, must not react when a witness becomes emotionally distressed. The majority of CAC/CYACs have chosen professionally trained, accredited dogs.
The courthouse facility dog typically sits at the feet of the witness during testimony.
The child will meet the dog at least once, and usually two or more times, before the court date.
Most handlers are professionals in the justice system, and have received training for this role. Handlers should be skilled in working with vulnerable victims, have familiarity with the legal system and aware of appropriate courtroom behaviour.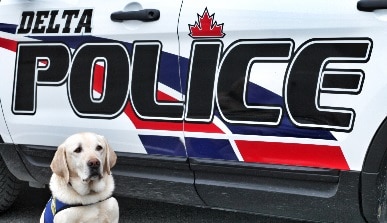 The US Experience
Courthouse facility dogs have been used for many years in the United States, supporting young and vulnerable adult victims and witnesses during their involvement in the justice process.
In 2015, Arkansas became the first state to pass legislation allowing child witnesses to be accompanied by a certified facility dog while testifying. Arizona, Florida, Hawaii, Idaho Illinois and Oklahoma recently enacted similar legislation.
Courthouse Dogs Foundation, the largest organization in the US, strongly recommends that facility dogs used in the court environment should be professionally trained, certified, and come from an accredited service dog agency. Their comprehensive website includes training standards and CAC's best practice document.
Training standards for courthouse dogs can be reviewed at
www.assistancedogsinternational.org.
Courthouse facility dogs across Canada (2018)
There is a fast growing number of courthouse facility dogs in organizations across Canada. Many organizations are awaiting dogs to complete their training and become part of the support team. Here is a current list:
Alberta
Bonnyville RCMP Victim Services (Dogs With Wings)
Calgary Police Service (PADS)
Camrose Police Services (Dogs With Wings)
Chinook Arch Victim Services (Dogs With Wings)
Lethbridge Corridor Victim Services (Dogs With Wings) 
Medicine Hat Police Victim Assistance (Dogs With Wings)
Sheldon Kennedy Child Advocacy Center, Calgary (2 dogs from Dogs With Wings)
Zebra Child Protection Centre, Edmonton (1 dog from PADS, 1 dog from Dogs With Wings)
British Columbia
Delta Police Victim Services (PADS)
Cranbrook and Kimberley RCMP Victim Services (PADS)
Langley RCMP Victim Services (PADS)
Penticton Summerland RCMP Victim Services (PADS)
Robson Valley Support Society, McBride (PADS)
Vancouver Police Department (PADS)
Manitoba
Manitoba Justice – Victim Services (PADS)
Nova Scotia
SeaStar Child and Youth Advocacy Center (PADS)
Ontario
Boost Child & Youth Advocacy Centre, Toronto (2 dogs from National Service Dogs)
Koala Place CYAC Cornwall (National Service Dogs)
Kingston Police Force (National Service Dogs)
London Family Court Clinic (National Service Dogs)
Quebec
Child Protective Services, Longueuil (Mira)
Quebec Provincial Police (2 dogs from Mira)
Sherbrooke Police Force (Mira)
Saskatchewan
Moose Jaw Police Services (PADS)
Regina Police Services (PADS)
SE Regional Victim Services (PADS)
https://courthousedogs.org/dogs/where/where-canada/
Additional reading
Dellinger, Marianne. 2008-09. Using Dogs for Emotional Support of Testifying Victims of Crime. Animal Law 15:171-192.
Ha, James and McConnell, P. Facility Dogs (2017)
The Best Practice for Assisting Vulnerable People in the Legal System
http://courthousedogs.org/wp-content/uploads/2017/12/Facility-Dogs-in-the-Legal-System.pdf
London Family Court Clinic: Courthouse Facility Dogs (2017)
www.lfcc.on.ca/wp-content/uploads/…/April-Monthly-Topic-Courthouse-Dog.pdf
McDonald, Susan., & Rooney, Lara. (2014). Let's "Paws" to Consider the Possibility: Using Support Dogs with Victims of Crime. http://www.justice.gc.ca/eng/rp-pr/cj-jp/victim/rd7-rr7/p4.html